Science of Early Life
November 18 - 20, 2019
Kloster Seeon 2019
Germany

Conference Chairs

: Thomas Henning & Oliver Trapp






This interdisciplinary conference will present leading research in the Origins of Life, covering experimental, observational, and theoretical aspects.
T
opics of the conference cover
:
Astrochemistry

Prebiotic Chemistry

DNA and RNA Chemistry

Molecular Evolution

Non-equilibrium Chemistry, "Matter to Life"

Chirality

Computational and Mathematical Modelling

Geology and Chemistry
James Attwater, MRC Laboratory of Molecular Biology, Cambridge, United Kingdom
Dieter Braun, Department of Physics, LMU Munich, Germany
Thomas Carell, Department of Chemistry, LMU Munich, Germany
Michele Fiore, Universite de Lyon, France
Daniele Fulvio, Departamento de Física, Rio de Janeiro, Brasil
Paul Higgs, Department of Physics and Astronomy, McMaster University Hamilton, Canada
Bill Martin, Institute of Molecular Evolution, Heinrich-Heine-University, Duesseldorf, Germany
Cornelia Meinert, Institut de Chimie, University Nice Sophia Antipolis, France
Joseph Moran, Laboratory of Chemical Catalysis, Institut de Science et d'Ingenierie Supramoleculaires, Strasbourg, France
Matt Powner, UCL, London, United Kingdom
Ralph Pudritz, Department of Physics and Astronomy, McMaster University Hamilton, Canada
Mario Trieloff, Institut fuer Geowissenschaften, University Heidelberg, Germany
Wolfgang Weigand, Institute of Inorganic Chemistry, Friedrich-Schiller-University Jena, Germany
The conference takes place at Kloster Seeon, a former Benedictine monastery with state-of-the-art equipment and a ***Superior Hotel in Upper Bavaria.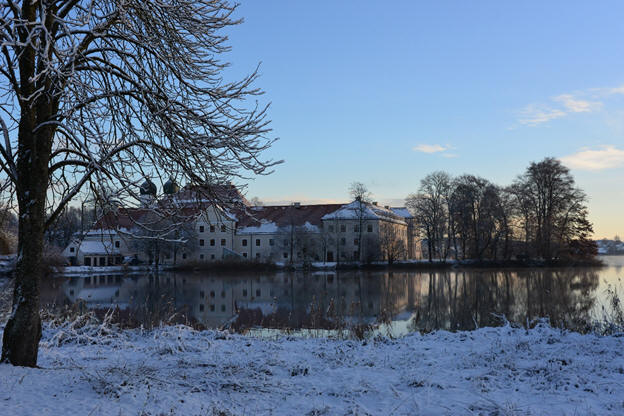 How to get there:
By airplane and train
Next airports are Munich and Salzburg, convenient train connections exist.
Please take a train to the station Bad Endorf or Traunstein, then continue by taxi.
As a member of the TOP 250 German conference hotels, Kloster Seeon can offer you particularly favourable train tickets online for your arrival and departure to the Sience of Early Life Conference 2019.

By car
from highway A8 coming from Munich:
exit 106 Bernau via Prien, Rimsting, Eggstätt, Roitham
or via Prien, Rimsting, Breitbrunn, Gstadt, Seebruck

from the B304 coming from Munich:
via Ebersberg, Wasserburg, Obing

from highway A8 coming from Salzburg:
exit 109 Grabenstätt via Chieming, Seebruck