Home
Welcome to the group of Prof. Lena Daumann
Daumann Group News 2019-2020
26.9.2020
Lena will give a couple of online seminars in October, tune in if you like!
At the Virtual Wiley ACES-CRSI Symposium on October 5th, register here: https://www.workcast.com/register?cpak=3380362791051714&referrer=email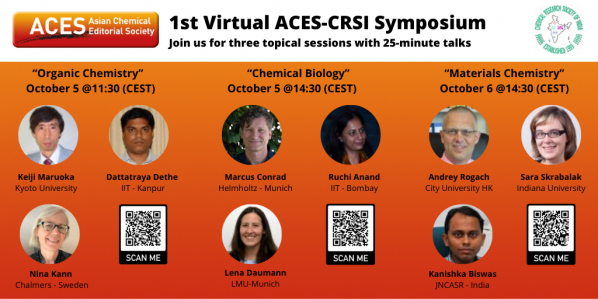 At the Angular Momentum f-element series (see twitter @felementangular) on October 27th. Register here: https://lehigh.zoom.us/meeting/register/tJMldu2hqTwiE9NGx3_w8T5fZoQZ6wZE7gT-
18.9.2020
Our recent article on the enzyme cofactor PQQ and its application to Ln separation has been highlighted on differnet news sites:
phys.org miragenews.com, LMU and Twitter. Haven't read it yet? Check out Henning's and Annika'a open access article here.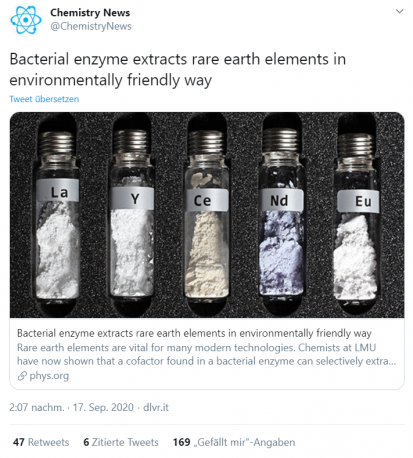 4.9.2020
That's how two successfull scientists look after a week of Curium and Europium titrations! Helena and Sophie spent some time in Dresden at the HZDR as part of a Klaus Tschirra Boost Fund Project on biological actinide chelators. #thatsrad! We are glad they are not contaminated and that we can have them back soon ;)
3.9.2020
We are happy to share the news that Lena has been selected to recieve an ERC starting grant worth 1.5 million €!
Here is the link to the LMU press release. Many thanks to the past and current team of students and collaborators that made this possible!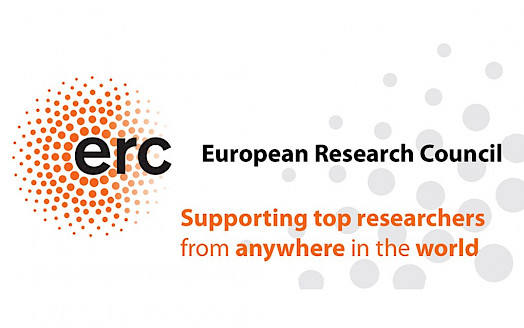 The ERC project on "Innovative Bioinspired Strategies Towards Selective Lanthanide Complexation and Separation: From Bacterial Chelators to Applications" (acronym: LANTHANOPHOR) is inspired by the discovery that certain bacteria are capable of efficiently mobilizing lanthanides. The molecular mechanisms that enable these bacteria to accumulate lanthanides are as yet largely unexplored. However, it was recently shown that they possess specialized multidentate ligands – lanthanophores – that bind specifically to lanthanides. Our goal is now to characterize these compounds, and utilize the insights obtained to develop rapid, sustainable and environmentally benign technologies for the selective recovery and recycling of lanthanides. One postdoc position already available!
1.9.2020
We welcome our two Hiwis Doreen and Manuel this month in the group!
27.8.2020
Bere successfully defended her thesis today! Congratulations!

17.8.2020
We welcome our new intern Patrick to the team. We wish you lots of success!
29.7.2020
Lena made videos for our prospective Bachelor Chemistry and Biochemistry Students of the wintersemester.
Here is the video with our students!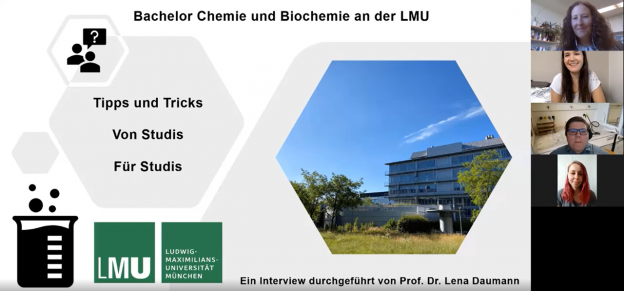 Here is the video with our professors! If you want to know what's up with the cola in the last frame you have to watch it to the end:) Enjoy!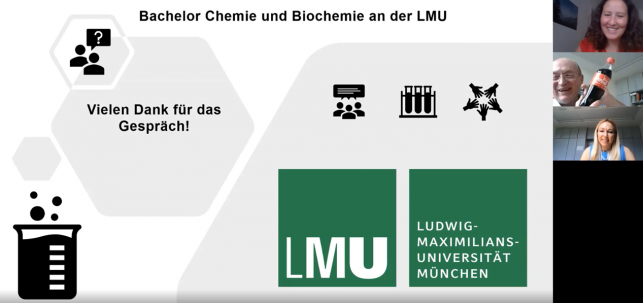 27.7.2020
A postdoc position on our lanthanide projects is available now! https://www.uni-muenchen.de/aktuelles/stellenangebote/wissenschaft/20200727134920.html
14.7.2020
The Cover Feature of Annika's and Henning's article on lanthanide separation is now online!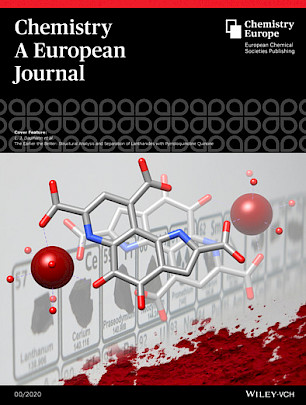 14.7.2020
We were treated to a fantastic talk today in the Bioinorganic chemistry Ac 6 lecture on gold complexes and aquaporins by Prof. Angela Casini. Thank you very much for mixing up our semester a bit and visiting us virtually from TUM!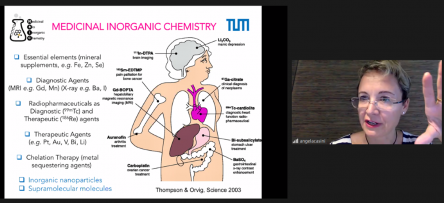 17.6.2020
Sophie's interview with the ZDF kids Show Princess of science is now online! She talks about REE in smartphones and the importance of recycling. Great job!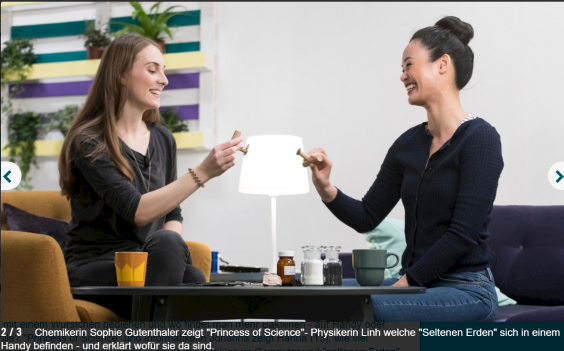 Photo @ Martin Vogel/ZDF
16.6.2020
We welcome our new bachelor student Sophia and our research intern Daniel to the group this week! Welcome!
15.6.2020
Our guest Sayani Das talked about manganese and mercury sensors in cells followed by a short discussion on science communication and outreach! Thanks for "visiting" uns all the way from India to talk about your work!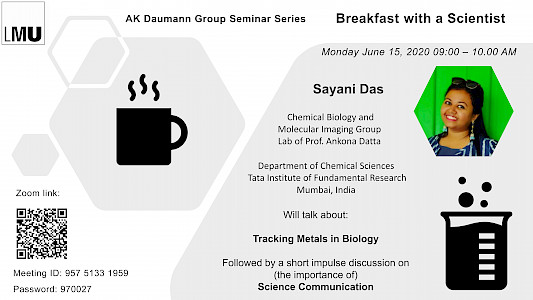 9.6.2020
Lena gave a talk at the ECR Inorganic Series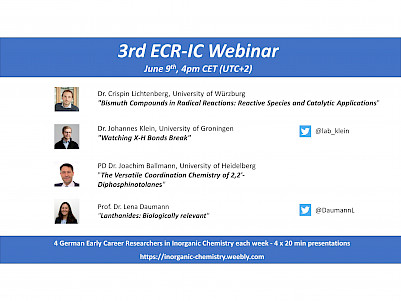 3.6.2020
Henning's and Annika's paper on the Structural Analysis and Separation of Lanthanides with Pyrroloquinoline Quinone was just accepted at Chemistry A European Journal! Congrats! The accepted open access version is available here!
30.5.2020
Wir suchen ab sofort einen Synthese Hiwi! https://www.cup.lmu.de/ac/daumann/open-positions/
25.5.2020
We hosted Dr. Michal Shoshan today for a science breakfast via zoom. She gave an inspiring talk about her work on lead-binding peptides and the following discussion about time management was equally enlightening! Thanks for joining us this Monday!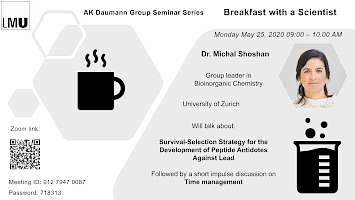 11.5.2020
Our Research retreat has begun! Unfortunately not in Bad Tölz as planned, but nevertheless with interesting topics and entirely online!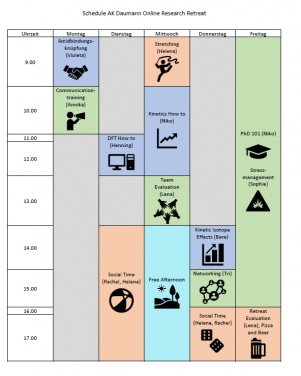 4.5.2020
Our paper with the first europium enzyme is still a big hit :)
If you havent done so, you can check out this open access paper here!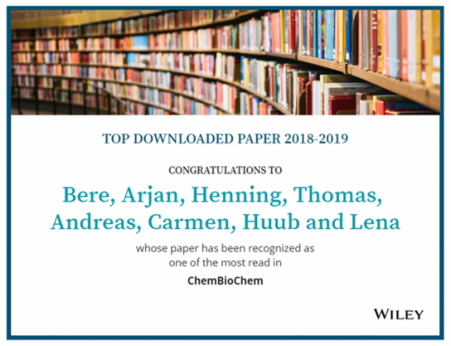 1.5.2020
We welcome back our three new PhD Students Sophie, Annika and Rachel! Nice to have you back, we wish you lots of success!
28.4.2020
Lena gave an online seminar at the Uni Zürich via Zoom!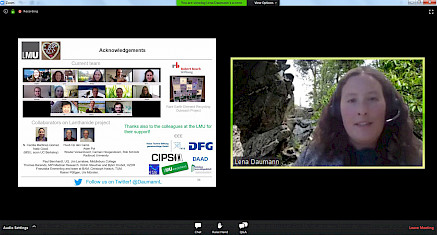 16.4.2020
We are featured on the LMU news, Instagram and Facebook pages and Lena's approach to teaching in the Summer Semester was also highlighted by the Münchner Merkur.
https://www.uni-muenchen.de/aktuelles/news/2020/digitales_sommersemester.html
6.4.2020
Our Spring group picture is here!

1.4.2020
Dear students,
The current situation presents us all with new challenges. However, I will try to create an inclusive, interactive classroom for you as usual.
Of course even a multifaceted online teaching does not 100% replace a motivated lecturer in the lecture hall. And an apartment does not replace a library.
I am also aware that it is difficult for some people to concentrate on the subject matter as usual and that many also have to deal with slow internet connections or other circumstances at home that make it difficult focus. If that is the case, please let me know! My email inbox is always open for your questions or feedback.
We are all in the same boat and at some point things will return to normal.
Until then we all hope for a fast internet connection and I look forward to seeing you all online later in April!
With my best regards from my home office to yours
Lena D
16.3.2020
AK Daumann has moved to homeoffice, feel free to contact us via email.
13.3.2020
All group meeting will only take place via zoom until further notice. If you woudl like to join our Monday group meetings please send an email to Lena. We will also have online virtual group lunches via Zoom on Fridays. Feel free to join us!
11.3.2020
Dear students, the AC3 Praktikum has been cancelled.
2.3.2020
Sophie went to a TV shoot for the ZDF production Princess of Science to talk about the importance of rare earth elements in our everyday lifes and recycling of these elements. Read more about it here! We are looking forward to see the show!
Sophie was also selected to represent our group and LMU at the next Lindau Nobel Laureate Meeting! Congratulations!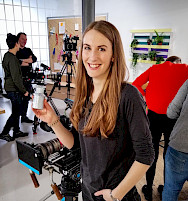 1.3.-3.3.2020
Lena, Niko, Annika and Violeta went to Freiburg and attended the KCT where Niko gave a talk, Annika and Violeta presented posters!
1.3.2020
Juliane from TUM re-joined us for her Master Thesis. Welcome back!
24.2.2020
We are shining some light into biochemistry assays that are often "black boxes" and prone to reproducibility issues.
Our new paper on lanthanide MDH assays is now published at the Journal of Biological Inorganic Chemistry and open access! Congratulations to Bere, Hurina, Helena and Niko!
12.2.2020
The rare earth element dependent organism SolV never ceases to amaze us! Please check out the really cool open access paper "A thermoacidophilic methanotroph oxidizes atmospheric hydrogen gas" of Rob Schmitz, Huub Op den Camp and coworkers that was recently published!
Here is also the behind the paper comment: https://go.nature.com/2UDnWgG!
10.2.2020
Doreen started her ACF internship with us, welcome!
30.1.2020
Our open access article with the first europium enzyme continues to attract attention in the community! Read about it here.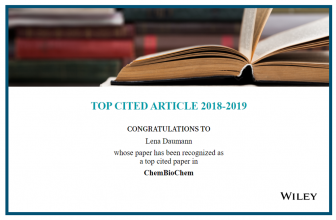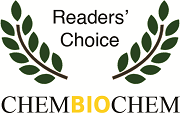 9.1.2020
Zoe joined us from Mississippi State University for her internship! Welcome to the team!
8.1.2020
Lena gave a talk at the university of Innsbruck.
13.12.2019
So nice to see some of our alumni and current group members recieve their Master Degree Certificates today. Congratulations to Tri, Helena, Kerstin and Johann! Special shout out to Helena for winning the prize for best master thesis! We wish you all the best for your future endeavors and we are very proud of you all!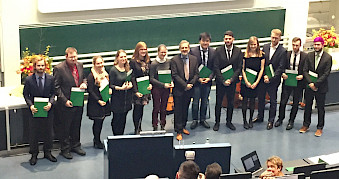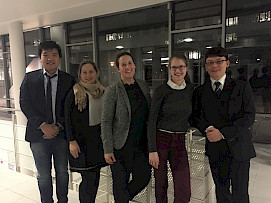 Lena is very excited as she was awarded the teaching prize for best bachelor lecture by the Fachschaft Chemie and Biochemistry at the symposium. Thank you!
10.12.2019
Henning successfully defended his thesis today! Congratulations!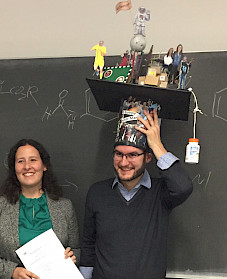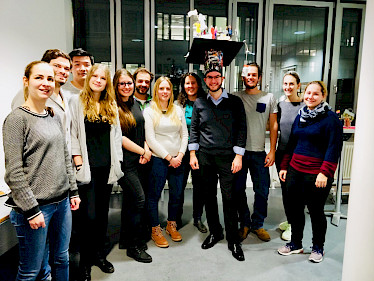 6.12.2019
Lena participated in the "Innovation in der Hochschule" Symposium and shared her toughts on "Teaching in 2030" during a plenary discussion.
The epigenetic crew went to the SFB1309 Symposium where we also presented a poster.
4.12.2019
Lena and Helena went to the Jahrestreffen of the project Lehrerbildung@LMU.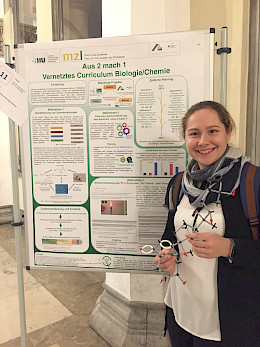 22.11.19
The group went to Passau where Lena recieved the teaching award: "Preis für gute Lehre Bayern". Thanks to everyone that made the trip so fun!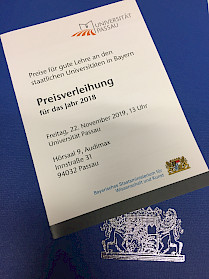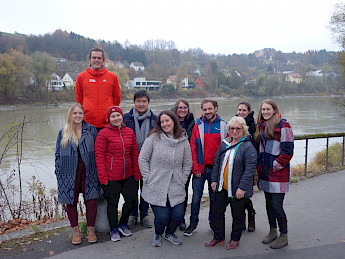 19.11.19
Ksenija joined the group as a hiwi! Welcome to the team!
14.11.19
Our outreach project on the recycling of rare earth elements has been highlighted by the Münchner Unimagazin. We thank Ms Linges for the coverage!
An interview with Lena and Stefan Schwarzer (Didaktik) can be found here (LMU intranet only) and the full article here.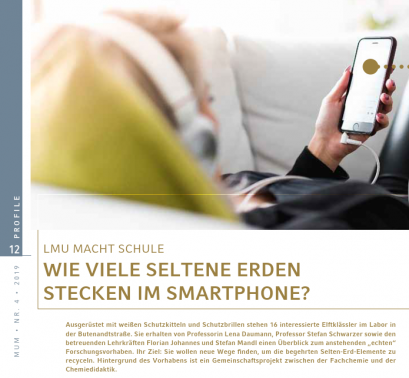 12. and 13.11.19
Lena gave talks at the University of Tübingen and Kaiserslautern.
7.11.19
Safety first! The group went to a first aid course. Now almost everyone in the group is a trained first aid responder.

4.11.19
Lena gave a talk at the ChemMUC campus event. Many thanks to the JCF München for organizing this great afternoon!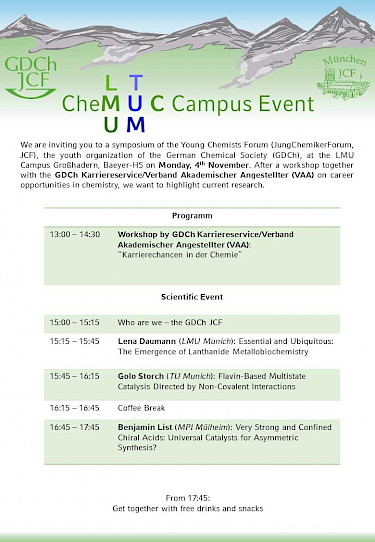 23.10.19
Its Pumkin season! Check out our (not at all) scary PQPumpin made by Rachel.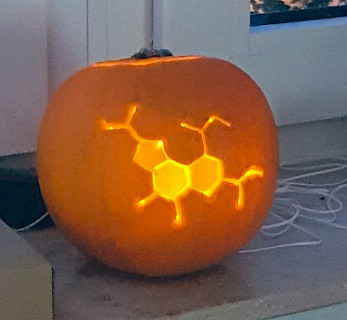 22.10.19
Lena gave a talk at the University of Stuttgart
17.10.19
Lena gave a talk at the University of Münster
16.10.10
Jonas joined the group for an ACF Praktikum, welcome!
15.10.19
We have a new group picture!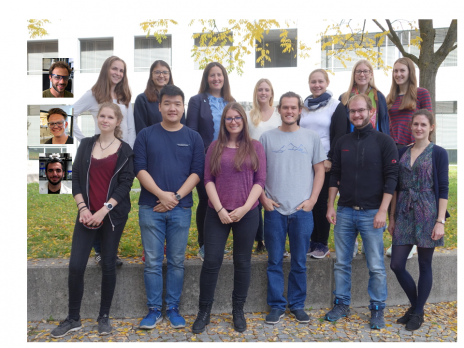 Almuth started her Bachelor thesis work today, and Tri his PhD thesis, welcome! We wish you lots of success!
7.10.2019
Hans started his Bachelor thesis work today, welcome! We wish you lots of success!
16.9.-10.10.2019
Its this time of the year again! We welcome this fall's cohort of AC3 students in our lab for the next three weeks! We wish everyone a productive and informative week with us!

1.10.2019
Mikey joined the group as a Hiwi. Welcome to the team!
18.9.2019
David and Niko attended the Summer School of the IRTG SFB1309 in beautiful Innsbruck!
16.9.2019
Helena and Lena attended the WiFo in Aachen. Helena presented a Poster and Lena gave a talk about the Bioinorganic Chemistry of Lanthanides. We also presented a poster together with Prof. Stefan Schwarzer on our Robert Bosch School Outreach Project and took a photo with our favorite elements (we just can't decide!).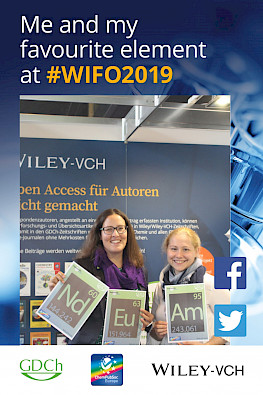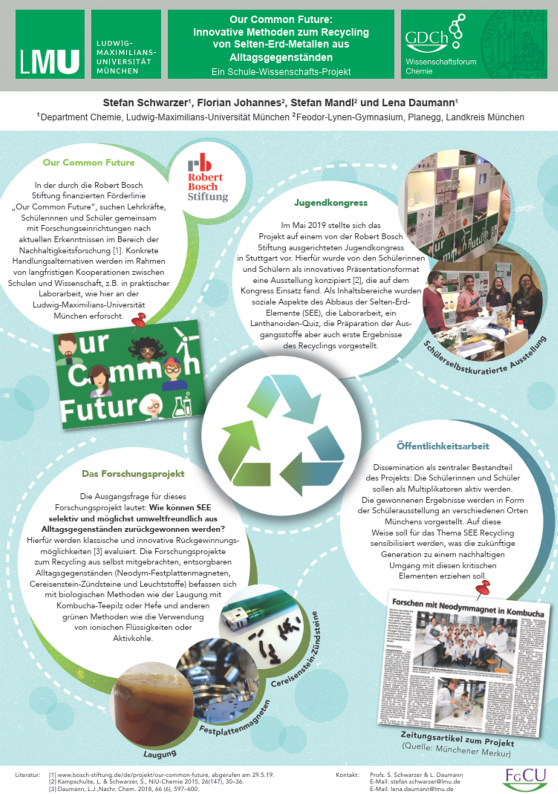 13.9.2019
Helena's Master thesis paper about the alkylation of steroid hormones by sulfur mustard has been published in Archives of Toxicology! Congrats!
12.9.2919
The cover art for Niko's paper on the oxidation of 5‐methylcytosine by a biomimetic iron(IV)oxo complex is online!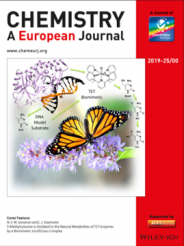 3.9.2019
Lots of action at the group outing today where we also welcomed our newest group member Aila. Welcome to the team!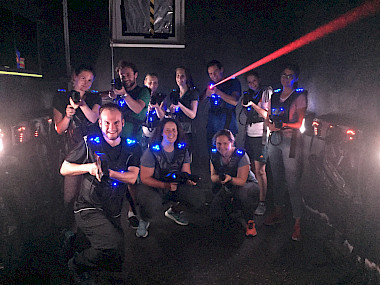 1.9.2019
Lena gave an interview for the page 7 column of the NAMEN & NACHRICHTEN in the DUZ 08/19 issue.
19.8.2019
Sophie started her masters thesis today! Welcome!
Helena and Bere are traveling to Dresden for a collaboration, we wish you lots of success!
12.8.2019
Lena and Niko went to the ICBIC conference in beautiful Interlaken. Lena gave an invited talk and Niko presented a poster about his PhD Project.
Congratulations Niko for getting a poster prize and a travel scholarship of SBIC!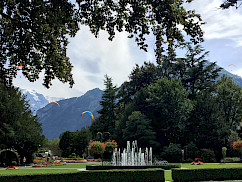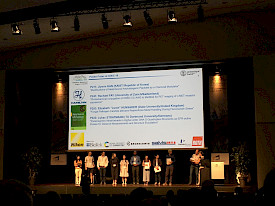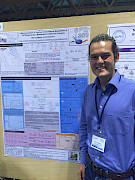 7.8.2019
David started his masters thesis work with us. Welcome!
19.7.2019
Lena recieved the Therese von Bayern Prize!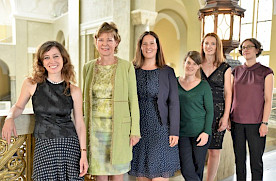 More infos and photo: LMU
3.7.2019
Our article Similar but Not the Same: First Kinetic and Structural Analyses of a Methanol Dehydrogenase Containing a Europium Ion in the Active Site is part of a new Special Collection: ChemBioChem Readers' Choice 2019 showcasing articles published in 2017 and 2018 that were most well-received according to citation numbers and access data! We are very excited!
1.7.2019
Niko started his PhD Fellowship of the Studienstiftung today. Congrats! To celebrate, Lena made a cake inspired by this thesis topic: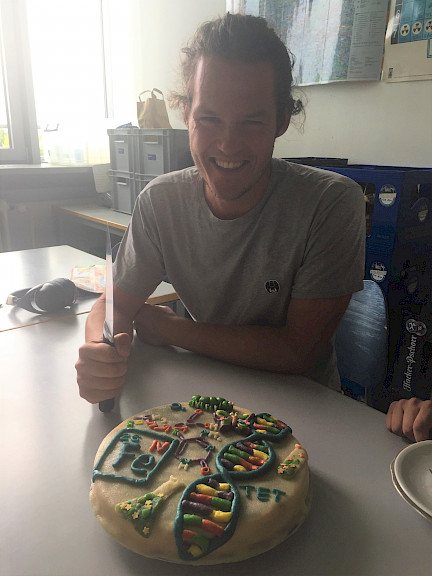 26.6.-28.6.2019
Lena attended the Alexander von Humboldt Jahrestagung in Berlin and the reception at Schloss Bellevue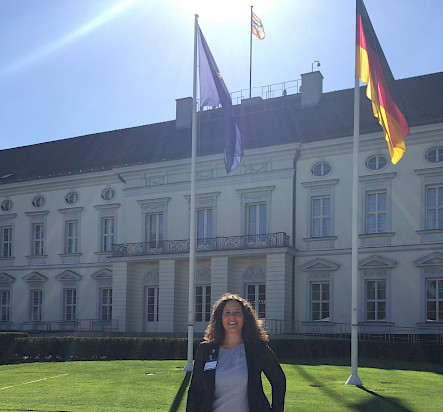 26.6.2019
Annika rejoined the group for her Master Thesis. We are glad to have you back and wish you lots of success!
18.6.2019
Niko's paper on the biomimetic oxidation of 5mC got accepted in Chemistry- A European Journal! Congrats!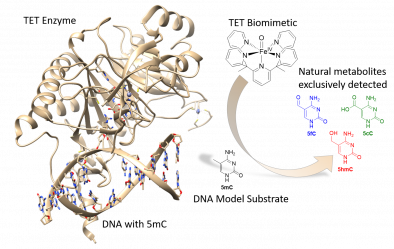 17.6.2019
Sebastian started his bachelors thesis with us! Welcome! We wish you lots of success!
11.6.2019
A lot happening today: Lena and Helena went to HZDR to set up a collaboration. Rachel rejoined the group for her master thesis and Mari joined us for her bachelor thesis. We wish you both lots of success! And Hennings paper on PQQ got published in Inorganic Chemistry! Congrats!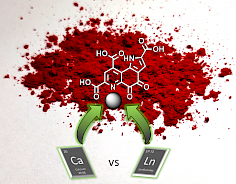 6.6.2019
Lena gave a talk at the University in Bonn. There was time to visit the Kekulé statue as well!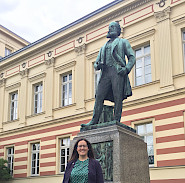 30.5.2019
Lena gave a talk at the Terrae rarae confrence in Stockholm/Helsinki and visited Ytterby!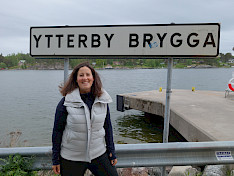 29.5.2019
Bere, Helena and Lena attended the PVC Conference in beautiful Nijmegen!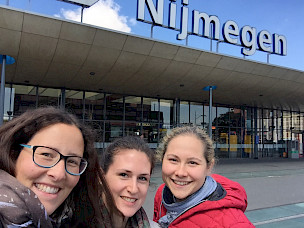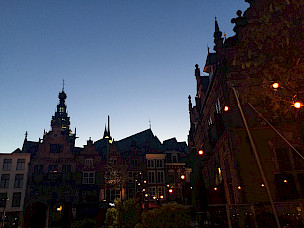 24.5.2019
We attended the Robert Bosch Jugendkongress in Stuttgart and the Students presented their own, hand-build and curated exhibition on Rare Earth Element Recycling.
The final product looked amazing, with lots of interactive modules, ipad videos and slideshows and a quiz!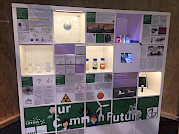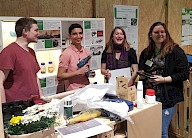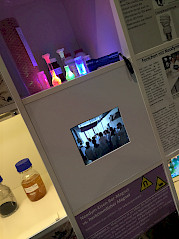 23.5.2019
Our collaboration with Arjan Pol, Huub Op den Camp has yielded yet another paper! This time we have investigated with Paul Bernhardt from UQ the electrocatalysis of our Eu-MDH with its physiological electron‐acceptor cytochrome cGJ. Check out our cool cover art for this article below!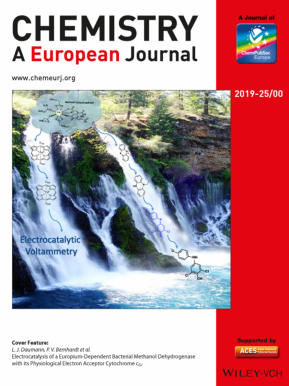 15.5.2019
Lena gave a talk at the University of Leipzig
6.5.2019
Jonas started his Bachelor thesis work with us, welcome! We wish you lots of success!
5.5.2019
The group has a twitter account now! Follow @DaumannL the Daumann Lab
29.4.2019
Caro started her Bachelor thesis work with us, welcome! We wish you lots of success!
25.4.2019
Our review of the Emergence of Lanthanide Metallobiochemistry is now available as an accepted article on the Angewandte Chemie Int. Ed. website!
9.4.2019
Lena gave a talk at the Mentoring Retreat Chemistry, Biochemistry and Pharmacy at Kloster Frauenwörth, Fraueninsel, Chiemsee.

What a beautiful setting to discuss careers in and outside academia with young and talented scientists!
5.4.2019
Lena was at the Ars Legendi Award Ceremony in Berlin!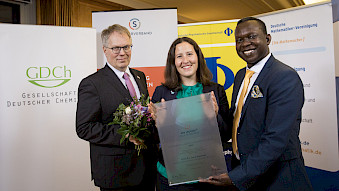 Fotograf: Kay Herschelmann
4.4.19
Our collaboration with Op den Camp and coworkers towards characterization of a novel cytochrome cGJ as the electron acceptor of XoxF-MDH in the thermoacidophilic methanotroph Methylacidiphilum fumariolicum SolV has been published in BBA-Proteins and Proteomics as an open access article!
19.3.2019
An article about our Rober-Bosch Foundation sponsored outreach project: "Our Common Future" has appeared in the Münchner Merkur Würmtal: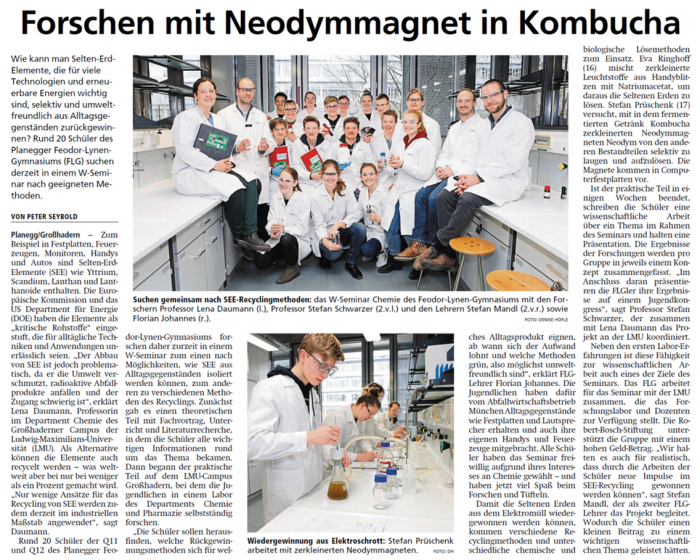 We thank Peter Seybold and Denise Höfle from Münchner Merkur Würmtal for the coverage!
11.3 - 14.3. 2019
Lena and Henning attended the final SFB 749-Meeting at Venice International University, San Servolo. Lena gave a talk about lanthanides in biology and Henning presented a poster about his work with the redox cofactor PQQ.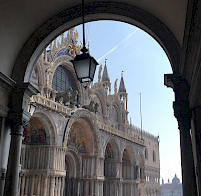 7.3.2019
Lena is excited to be the recipient of the Ars legendi-Preis für exzellente Hochschullehre in 2019! Read more about her teaching methods here and the LMU press release here.
27.2.2019
New Group Picture today with our new intern Juliane! Welcome!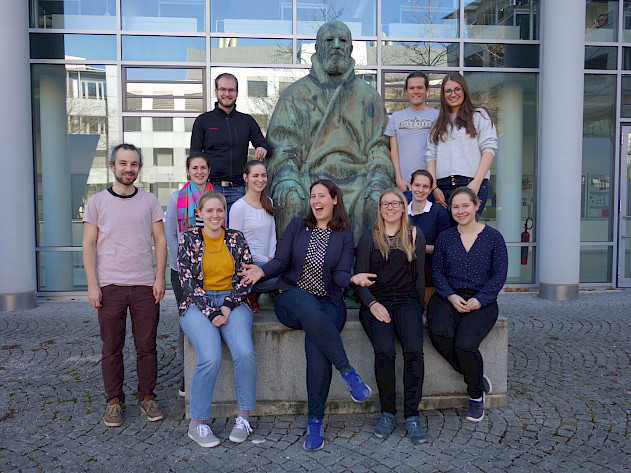 25.2.2019
We welcome the BOGY intern Chiara S. into our lab this week!
18.2.2019
We are excited to host Rob Schmitz, PhD student from Radboud university in Nimwegen and our dear Alumna Lauren Davidson this week in our lab!
12.2.2019
Rachel joined the group for an ACF internship. Welcome Rachel!
---
7.2.2019
Lena was selected as Fellow for the Klaus Tschira Boost Fund by the German Scholars Organization e.V.. The funding will allow us to conduct a joint project with Prof. Huub Op den Camp (Radboud University), Prof. Cecilia Martinez-Gomez (Michigan State University), Dr. Robin Steudtner (Helmholtz-Zentrum Dresden-Rossendorf), and Prof. Georg Steinhauser (IRS Hannover). We are looking forward to this international and interdisciplinary project! Learn more about the Klaus Tschira Boost Fund in this radio interview here.
---
5.2.2019
Annika joined the group as an ACF Intern. Welcome Annika!
---
21.1.2019
Lena gave a talk at TU Braunschweig
---
18.1.2019
Group Lab Selfie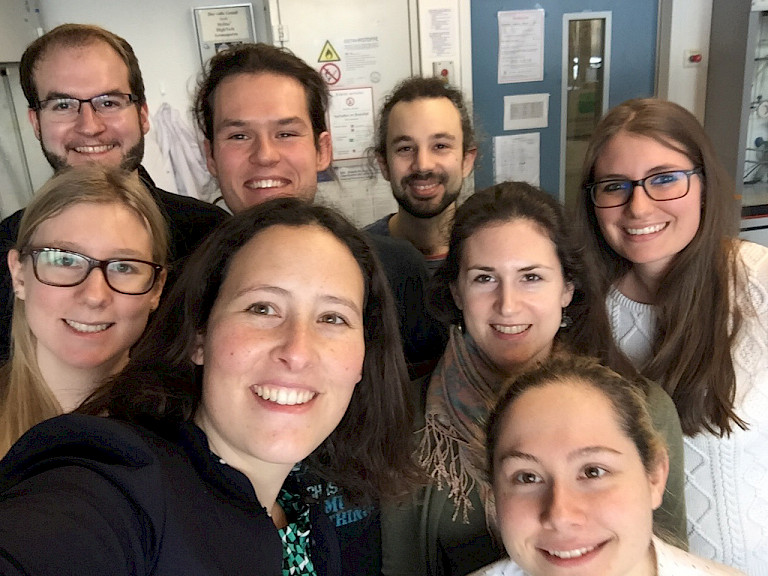 ---
1.1.2019
Helena startted her PhD with us. Welcome to the team Helena! We wish you lots of success!
News: Our collaboration with microbiologists Arjan Pol and Huub Op den Camp at Radboud University in Nijmegen, Netherlands, and Thomas Barends at the Max Planck Institute for Medical Research in Heidelberg has led to the publication of the first Europium Enzyme on the cover of Chembiochem and was covered in the media. Its One of the five most accessed articles in June!
The follow up article where we investigate the impact of the entire lanthanide series on the activity of MDH will soon be on the back cover of Dalton Transactions!
Read more about it here:
https://www.laborjournal.de/editorials/1540.lasso
https://www.eurekalert.org/pub_releases/2018-06/lm-bet061218.php
http://www.chemie.de/news/1155696/erster-einblick-in-ein-europium-enzym.html
https://www.sciencedaily.com/releases/2018/06/180612185109.htm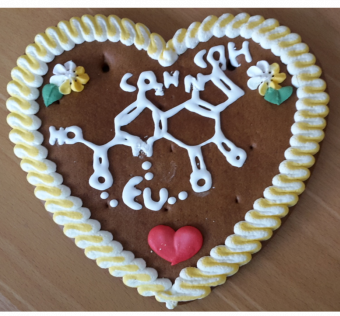 Group Outing Summer 2018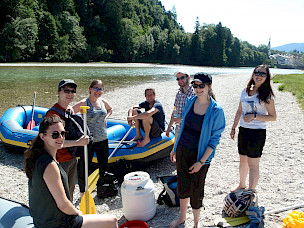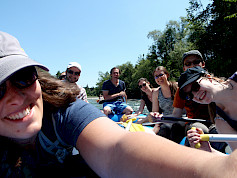 Group Picture Winter 2017